While I think that the classy food court on the bottom level of the SF Westfield Shopping Center is way overpriced, there are certain things that I find hard to resist. Like Korean BBQ chicken at Sorabol. Or a cream puff at Beard Papa's. And now finally, the crepes at
Melt Gelato
. While I love ice cream/gelato, I actually skipped trying the gelato at this place and went straight to the crepes!
This crepe was simply wonderful! Light and fluffy with a generous amount of strawberries and nutella on the inside and powdered sugar sprinkled on top. Beautiful presentation as well.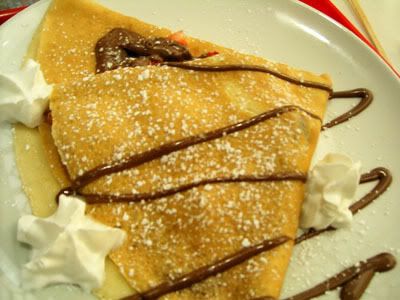 Close-up shot (I love the star-shaped whip cream)
Melt has a variety of sweet and savory crepes, usually ranging from $2.95 to $7.95. You can also get gelato a la mode with a plain crepe ($1.25). Unfortunately, they no longer offer their apple pie crepe, but it's still on their menu, teasing us with illusions of apple compote and caramel.

Now that I've fallen in love with Melt's crepes, I think I need to try their gelato next time!