I was expecting a pricey lunch when I went to Palomino, but it was actually quite reasonable given the high-quality European/American food and its Embarcadero location. My friends and I sat at a table by the window, which gave us a gorgeous view of the Bay Bridge.

I am usually not much of a "drink at lunchtime" gal, but I couldn't resist ordering the tiramisu cocktail to start. Tiramisu is my absolute favorite dessert of all time. To put it in drink form seemed like pure genius to me.
Tiramisu cocktail ($8.50) - Stoli Vanil vodka, Baileys Irish Cream, Starbucks coffee liqueur, Godiva chocolate liqueur, and chocolate shavings floating on top. A must-have for any chocolate or coffee lover (who can handle the slight taste of vodka, of course).
Our smoked salmon appetizer brought the meal off to a good start:


And I continued the fish theme by ordering the grilled salmon with artichoke tartar. Very fresh and not over-grilled, and perfectly complemented by the tartar sauce.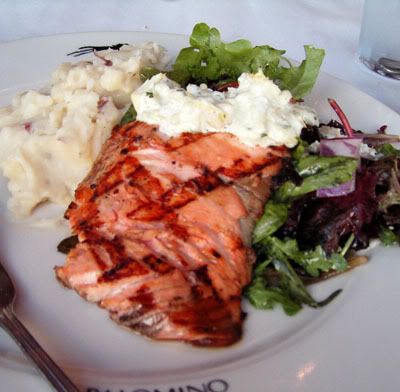 Grilled salmon with artichoke tartar and lemon-vermouth butter, with a side of spring greens drizzled with raspberry vinaigrette ($15.95)
However, my friend Erica ordered the asiago crusted tilapia, which beat out my salmon in terms of taste. It must have been that creamy cheese sauce.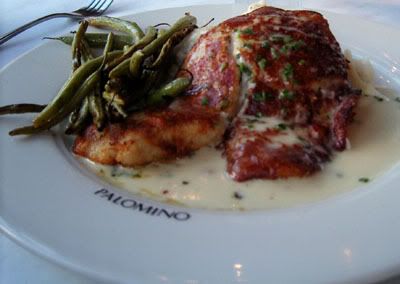 Asiago crusted tilapia - pan seared with Parmesan cheeses and fresh chive butter sauce ($13.95)
Two other things on their menu that struck my eye:

1. They have a combination lunch special where you can get a soup/ salad for $10.95, pasta and soup/salad for $11.95, or a half sandwich and pasta/soup/salad for $11.95. Seems like it would be a good place for a nice, relaxing lunch at a decent price.

2. I didn't order any dessert when I went, but I would gladly go back to try them. It's kind of hard for me to resist things like chocolate torte with espresso creme anglaise and vanilla creme brulee.

Anyway, for good, fresh, reasonably-priced food with a view of the bay, check this place out!
Palomino
345 Spear Street
San Francisco, CA 94105
(415) 512-7400
www.palomino.com