I just got back from a little vacation in San Diego, so expect a few posts about some of my eating adventures in one of the greatest cities in California. A highlight of my trip was that I finally got a chance to go to
Karl Strauss
, where they have some of the best handcrafted beer I've ever tried. They're a local brewery with several locations in San Diego, but alas, they don't have any locations or distributors in Northern California. It's really quite sad, although I suppose my wallet wouldn't agree, considering how much I would spend stocking up on Karl's brews if I could get ahold of it in San Francisco.
Anyway, Karl Strauss makes some very special beers with lots of body and complex flavors. My favorites out of the ones I've tried so far are Red Trolley, Amber Lager, and Woodie Gold. The food itself at the brewery restaurant is also very tasty, and compliments the beers well (surprise surprise). See their beer and food pairings
here
.
My perfect Sunday afternoon consisted of pitchers of Red Trolley and Woodie Gold ($9.95 each during happy hour), plates of cripsy calamari and garlic parmesan fries, and fun conversations with friends. All while enjoying the sunny San Diego weather outdoors.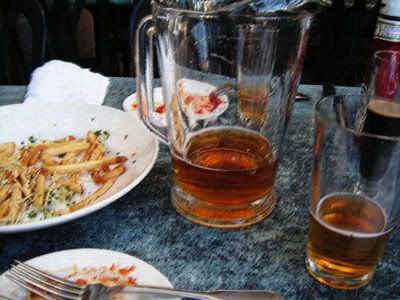 Nearing the end of happy hour (photoshop filter - rough pastels)
I knew I would miss Karl's beer so much when I got back to San Francisco that I had a farewell glass of Red Trolley at the airport while waiting to board my plane. Here's a wonderful description of the beer from the back of their coasters - it captures the qualities better than I ever could: "Generous amounts of carmelized malts give Red Trolley Ale its deep copper color and pronounced toffee-like flavors. We add just the right mix of domestic hops to counter the boldness of the malts so that it remains well balanced with an incredibly smooth finish. Warm fermentation with our proprietary yeast strain creates hints of dried fruit like dates and currants and adds layers of complexity to this big and remarkably drinkable ale."